Cacao Moist And Mild Cream 50g
Cacao Moist and Mild Cream is a lightweight moisturizer that helps create a soft texture. With Cacao Extracts and Hyaluronic Acid, this cream provides moisture to the skin. Various botanical extracts in the cream further helps to keep the skin smooth. 
From the very beginning of this product planning, our healthy and natural formula excludes 20 harmful and controversial ingredients, volatile alcohol, PEGs, and  silicones to create a well-rounded cream for your skin concerns.


Light for oily skin
Hydrating for teen skin with excessive sebum
Dewy finish all year around
THEOBROM A CACAO (COCOA) EXTRACT 63%
THEOBROM A CACAO (COCOA) SEED BUTTER 10%
SODIUM HYALURONATE
Theobroma Cacao (Cocoa) Extract, Theobroma Cacao (Cocoa) Seed Butter, Butylene Glycol, Glycerin, Aqua (Water), Sorbitan Olivate, 1,2-Hexanediol, Pentylene Glycol, Theobroma Cacao (Cocoa) Seed Extract, Zanthoxylum Piperitum Fruit Extract, Pulsatilla Koreana Extract, Usnea Barbata (Lichen) Extract, Sodium Hyaluronate, Polyglutamic Acid, Madecassoside, Beta-Glucan, Carbomer, Arginine, Xanthan Gum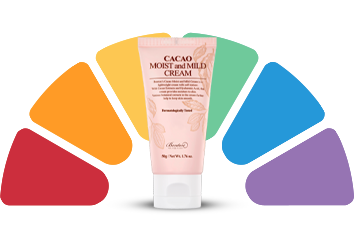 Mildly acidic pH
Mildly acidic pH where the skin feels comfortable.
Mildly acidic pH is similar to the pH level of healthy skin.
Lightweight & hydrating
I recently decided to try this cream as I've liked all the previous moisturizers I've tried. I think I might have found my holy grail. It's got the most lovely texture, it's like airy and light and creamy at the same time. It soaks in quickly and moisturizes well. I'm curious to see how it does in the winter months when it's more dry here but so far I LOVE it.
Dewy Cream
I absolutely loooove this cream for my normal/combination sensitive skin. The texture is like a fluffy cream slightly gel like, it feels SO smooth when applying to the face. It leaves a dewy finish but feels very lightweight. My skin has been looking very smooth and clear when I wake up in the mornings. It's working great for me in the winter applying a generous amount to my face and I think it will work equally as well in the summer time applying a little bit less. Side note...l it smells really good even though it is fragrance free. I almost never buy products again because I love to try new things but I will definitely be repurchasing this! Thanks, Benton.
Day cream
Excelent day cream for combination,dry skin. It has a lovely creamy texture and melts into the skin
Lightweight but hydrating
This moisturizer is light weight but very hydrating! Perfect for humid weathers.
My go-to moisturizer!!!
This moisturizer is really good
Light and Gentle
Its a really light cream so it would be great if you have oily skin.