Fermentation Essence 20ml (mini size)
---
Benton's Fermentation Essence is first premium essence containing Galactomyces.

Ferment Filtrate, Bifida Ferment Lysate, sh-Oligopeptide-1, and Ceramides.
This essence helps to achieve smooth and youthful skin.
Skin Boosting: After cleansing, restores destroyed oil-balance, and helps to improve the absorption of the next basic products.
Fermentation Radiance: Fermented ingredients and ceramide NP are absorbed into the skin to give the skin elasticity and radiance.
Strengthen Skin Elasticity: Adenosine, a functional ingredients for improving wrinkles, helps the skin with insufficient elasticity healthy and vital. 
Skin Texture Preparation: Fermented ingredients make rough skin soft to help you have soft and smooth skin. 
 Mildly acidic pH
Mildly acidic pH where the skin feels comfortable.
Mildly acidic pH is similar to the pH level of healthy skin.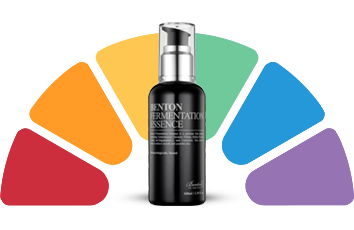 Benefits

Fermented ingredients, sh-Oligopeptide-1, Ceramide, Hyaluronic Acid contained.
Nutrition and moisture supply / pore care / skin protection / helps in skin improvement.
Wrinkle Improvement Functional Cosmetic (by MFDS standards)
If you have these concerns, try it! : Those with dull skin, those who are concerned about wrinkles, those who want to regain smooth skin texture, those with sensitive skin due to oil-water unbalance.

*MFDS: Ministry of Food and Drug Safety, South Korea
Ingredients

Galactomyces Ferment Filtrate
Bifida Ferment Lysate
Ceramide
SH-Oligopeptide-1
How to use

Layering: Repeat the process of takin a suitable amount of essence on your hands and letting it absorb into the skin 3-5 times.
Essence Pack: Soak a lot of essence on several cotton pads, put them on your face, and remove them after about 10 minutes.
Mist: Put the essence in an empty bottle and spray it frequently instead of a mist.